Posts for: February, 2015
By Grossman Dental Associates, PA
February 23, 2015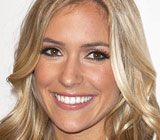 While she was pregnant with her son Camden Jack Cutler, 25-year-old Kristin Cavallari noticed an odd occurrence in her bathroom sink: "Every time I floss, my sink looks like I murdered somebody!" the actress and reality-TV personality exclaimed. Should we be concerned that something wicked is going on with the star of Laguna Beach and The Hills?
Before you call in the authorities, ask a periodontist: He or she will tell you that there's actually no mystery here. What Cavallari noticed is, in fact, a fairly common symptom of "pregnancy gingivitis," a condition that affects many expectant moms in the second to eighth month of pregnancy. But why does it occur at this time?
First — just the facts: You may already know that gingivitis is the medical name for an early stage of gum disease. Its symptoms may include bad breath, bleeding gums, and soreness, redness, or tenderness of the gum tissue. Fundamentally, gum disease is caused by the buildup of harmful bacteria, or plaque, on the teeth at the gum line — but it's important to remember that, while hundreds of types of bacteria live in the mouth, only a few are harmful. A change in the environment inside the mouth — like inadequate oral hygiene, to use one example — can cause the harmful types to flourish.
But in this case, the culprit isn't necessarily poor hygiene — instead, blame it on the natural hormonal changes that take place in expectant moms. As levels of some female hormones (estrogen and/or progesterone) rise during pregnancy, changes occur in the blood vessels in the gums, which cause them to be more susceptible to the effects of bacterial toxins. The bacteria produce toxic chemicals, which in turn bring on the symptoms of gingivitis — including painful and inflamed gums that may bleed heavily when flossed.
Is pregnancy gingivits a cause for concern? Perhaps — but the condition is generally quite treatable. If you've noticed symptoms like Kristen's, the first thing you should do it consult our office. We can advise you on a variety of treatments designed to relieve the inflammation in your gums and prevent the harmful bacteria from proliferating. Of course, your oral health (and your overall health) are prime concerns during pregnancy — so don't hesitate to seek medical help if it's needed!
How did things work out with Kristen? She maintained an effective oral hygiene routine, delivered a healthy baby — and recently appeared on the cover of Dear Doctor magazine, as the winner of the "Best Celebrity Smile" contest for 2012. And looking at her smile, it's no mystery why she won.
If you would like more information about pregnancy gingivitis, please contact us or schedule an appointment for a consultation. You can also learn more by reading the Dear Doctor magazine articles "Expectant Mothers" and "Kristen Cavallari."
By Grossman Dental Associates, PA
February 13, 2015
Accidents can happen to your mouth, especially if you have an active lifestyle. For example, a sudden blow to the jaw while playing sports or exercising could result in a chipped tooth. And, while the internal tooth structure may be fine, the effect on your appearance can be disheartening.
Fortunately, we have techniques and materials to restore your smile after an injury. Bonding with composite resin is one such procedure: it's ideal for mild to moderate chipping, especially in highly visible front teeth.
Composite resin is a dental material made of various substances mixed to match the color and texture of natural teeth. The composite is usually made of inorganic glass filler blended with a plastic-based matrix and joined together with a chemical "coupling" agent. The ratio of filler to matrix will depend on the type of tooth and damage — for example, back teeth, which encounter higher biting forces, require a composite with more filler for added strength.
To begin the procedure, we first prepare the damaged tooth by applying microscopic etchings (often with a chemical solution) that create tiny depressions or "undercuts": these help create a seamless bond between the composite and the natural tooth. We then apply the composite in layers with a bonding agent, building up layer upon layer until we've achieved the desired shape for the tooth involved.
Bonding with composite resins doesn't require much tooth preparation, can be placed quickly and is relatively inexpensive. Because of the wide spectrum of color possibilities, composite resins are superior to traditional amalgam (metal) restorations in creating a more life-like appearance. Its application, however, can be limited by the amount of tooth structure needing to be replaced: because it isn't as strong as the tooth structure it replaces, the more tooth structure the bonded composite resin attempts to replace the less likely it can stand up over time to normal bite forces.
Still, composite resins are ideal for mild to moderate damage or disfigurement. If you've suffered such an injury, be sure to visit us to see if bonding with life-like composites is the right solution for restoring your smile.
If you would like more information on bonding with composite resins, please contact us or schedule an appointment for a consultation. You can also learn more about this topic by reading the Dear Doctor magazine article "Repairing Chipped Teeth."