Posts for: March, 2015
By Grossman Dental Associates, PA
March 25, 2015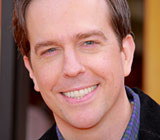 The lengths that some comedians will go to for a laugh! Actor Ed Helms, as dentist Stu Price, pulled out his own tooth in the movie The Hangover. Or did he? Turns out Helms really is missing a tooth, which never grew in. When he was in his late teens, he received a dental implant to make his smile look completely natural.
Helms told People magazine he wasn't exactly eager to remove the implant crown that had served him so well for almost 20 years, but there was no better way to do the famous tooth-pulling scene.
"We started to do different tests with prosthetics and blacking it out and nothing worked," Helms told the magazine. Helms' dentist said it would be okay to take the implant crown out. "My dentist was really into it," Helms said. The rest is movie history!
Congenitally missing ("con" – together with; "genital" – relating to birth) teeth are inherited and actually quite common. More than 20% of people lack one or more wisdom teeth, for example. These would not usually be replaced if missing (in fact, wisdom teeth are often removed) but it's a more serious issue when the missing tooth is in the front of the mouth — and not just for aesthetic reasons.
When a particular type of tooth is missing, it disrupts the pattern and function of the teeth. If left alone, sometimes the existing teeth will shift to close the gap. It's like removing a brick from an arch — the rest of the bricks would fall together in a different formation (or collapse entirely). And when upper and lower teeth don't come together properly, they can't function well.
The best treatment for this type of situation is the one Ed Helms had: a dental implant. They look and function like real teeth and do not attach to or damage adjacent teeth as other tooth-replacement options might.
It is important that a child with a congenitally missing tooth wait until jaw growth is complete — different for every person but usually in the late teens — before getting an implant. Otherwise, the artificial tooth might eventually appear too short when the person has stopped growing. In the meantime, there are temporary tooth replacements that can be made.
If you would like more information about options for congenitally missing teeth, please contact us or schedule an appointment for a consultation. You can learn more by reading the Dear Doctor magazine article "When Permanent Teeth Don't Grow." Dear Doctor also has more on "Teenagers & Dental Implants."
By Grossman Dental Associates, PA
March 10, 2015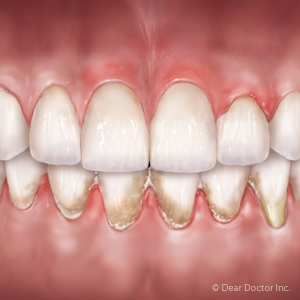 Periodontal (gum) disease can cause a number of devastating effects that could eventually lead to tooth loss. However, you may be more prone to a particular effect depending on the individual characteristics of your gums.
There are two basic types of gum tissues or "periodontal biotypes" that we inherit from our parents: thick or thin. These can often be identified by sight — thinner gum tissues present a more pronounced arch around the teeth and appear more scalloped; thicker tissues present a flatter arch appearance. While there are size variations within each biotype, one or the other tends to predominate within certain populations: those of European or African descent typically possess the thick biotype, while Asians tend to possess the thin biotype.
In relation to gum disease, those with thin gum tissues are more prone to gum recession. The diseased tissues pull up and away (recede) from a tooth, eventually exposing the tooth's root surface. Receding gums thus cause higher sensitivity to temperature changes or pressure, and can accelerate tooth decay. It's also unattractive as the normal pink triangles of gum tissue between teeth (papillae) may be lost, leaving only a dark spot between the teeth or making the more yellow-colored root surface visible.
While thicker gum tissues are more resilient to gum recession, they're more prone to the development of periodontal pockets. In this case, the slight gap between teeth and gums grows longer as the infected tissues pull away from the teeth as the underlying bone tissue is lost. The resulting void becomes deeper and more prone to infection and will ultimately result in further bone loss and decreased survivability for the tooth.
Either of these conditions will require extensive treatment beyond basic plaque control. Severe gum recession, for example, may require grafting techniques to cover exposed teeth and encourage new tissue growth. Periodontal pockets, in turn, must be accessed and cleaned of infection: the deeper the pocket the more invasive the treatment, including surgery.
Regardless of what type of gum tissue you have, it's important for you to take steps to lower your risk of gum disease. First and foremost, practice effective daily hygiene with brushing and flossing to remove bacterial plaque, the main cause of gum disease. You should also visit us at least twice a year (or more, if you've developed gum disease) for those all important cleanings and checkups.
If you would like more information on hereditary factors for gum disease, please contact us or schedule an appointment for a consultation. You can also learn more about this topic by reading the Dear Doctor magazine article "Genetics & Gum Tissue Types."